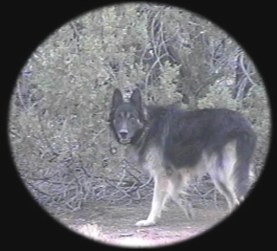 When Maxx's dam had her last litter at the age of 9 years,
we knew we would keep one of the pups because Lucky and Bear,
Maxx's dam and sire, were both so special to us.
Maxx has been our faithful companion and *Chief of Security*
for over eleven years now. He is very serious about his work and is
my right-hand-dog when it comes to milking time!
He knows which doe is to be milked next, who is trying to
cut ahead in line, and he dutifully escorts each one to
the milk stand. He is trusted to guard and supervise our goat
herd while they are out browsing on our forty acre homestead.
He is quiet and patient with horses and he knows his way around
cattle too! He has been known to *steal* calves from their
mamas and try to *mother* them too. Actually, he's probably
the most versatile and intelligent dog I've met yet!
He is a loyal dog and quite attached to me. He is also somewhat aggressive
toward strangers (two AND four-legged) until he is properly introduced.
This has turned out to be one of his best qualities, actually.
As a matter of fact, he is such a fantastic bodyguard that, recently, he
bravely defended me against two ferocious bears that we
encountered during a late night stroll. Let me tell you more about it by
posting the following email I sent to friends and relatives after this episode:
Hello all!
Maxx rose to the surprising occasion of encountering two ferocious bears tonight! He saved me from certain doom! While working late at our office in town tonight, I took Maxx for a stroll up the street to heed Mother Nature's call (him, NOT me). :-) Anyway, as we rounded a dark corner near the neighboring office building, I heard Maxx ROAR and pounce on something in a fury just out of my sight. Oh how he growled and snapped! I was startled to say the least! But even at over 11 years old, Maxx prevailed and came away with just a small gash near his eye. See the attached photo!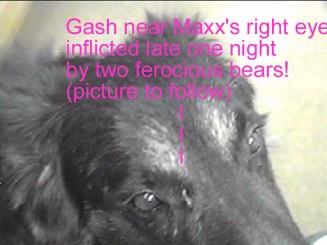 I will also send another picture immediately following this email as I was lucky enough to have my handy camcorder in the office so I ran back and got it just in time to film the two culprits (evil, dangerous,bears) before they left!
Click on the bear to see what happened next!