Some of Our Favorite Places
Countryside Magazine's website. If you like homesteading, being more self sufficient, and farm living you'll love this site. Articles on goats, cattle, chickens, rare breeds, building, gardening, classifieds...
An informative site with everything GOATS!
Goat 911, classifieds, articles, chat...
An online goat magazine, Goat Farmer, has it all.
Articles on health, breeding, ads, links, breeder directories.
It's based in New Zealand but much of the info applies anywhere.
A multi (western) state listing of hay for sale, great prices, deliveries available.
The American Dairy Goat Association website. Goat and breed registry info, shows, events, breeders, breed standards, performance programs...
Farm, Ranch, and Vet supply catalog. Online shopping or ask for snail mail catalog.
Another farm and ranch catalog, also have arts and crafts,
healthcare, and educational products.
A great supplier of off grid living essentials. Everything from solar panels and
inverters to propane refrigerators and hand-cranked radios.
Lehman's non-electric catalog. Store is based in Kidron, Ohio, caters to the large Amish population there, but also does a tremendous mail order catalog with everything from oil lamps to cast iron wood cookstoves. You'll find things here you may not have known existed, or thought were from days long past!
A great goat supply catalog. Kidding supplies, healthcare, books, packgoat items, gifts...
Great goat website, lots of info and links too!
Alpine Haus, an online resource for the goat farmer, charts, articles, supplies, books, links...
Oklahoma State University Livestock Breeds, much info on most breeds of
livestock including horses, swine, cattle, sheep, goats...rare breeds too!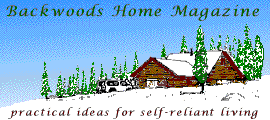 Informative articles on a wide range of subjects including building, alternative energy,
farming, gardening, food and cooking, country living and much more.
Please check back soon as this page is currently